the english webpage is currently being updated
2022: financieel dagblad
profiel nicole uniquole: stijlicoon met oog voor commercie
uit het artikel:
_ik zorg ervoor dat iets dat een beetje ingeslapen is, een merk of een winkelstraat, weer pittiger wordt.
_dat is haar specialisatie: oud combineren met nieuw. in 2012 schudde ze het duitse schloss oranienbaum op door dutch design te zetten naast stukken uit het koninlijk huisarchief.
_dat iedereen in het wereldje van dutch design haar kent, dankt ze ongetwijfeld aan haar zorgvuldig opgebouwde imago.
_voor de zesde keer richt nicole uniquole dit jaar het nederlands paviljoen in voor de belangrijkste meubeltentoonstelling ter wereld.
_haar huis in het haagse bezuidenhout uit 1904 is ingericht als een staalkaart van dutch design.
weltkunst magazine
so kam die flamboyante nicole uniquole aus den haag ins spiel.
die kuratorin, stilberaterin, designexpertin, entwicklerin von ästhetikstrategien versteht sich auf große spektakuläre gesten ebenso wie auf perfektionistische detailarbeit, die nichts dem zufall überlässt.
fulda: 'visitors from all over europe'
reformatorisch dagblad: 'fulda is fantastic'
de telegraaf: royal journal
tagesspiegel: 250 years king william I in fulda
fuldaer zeitung: 'the fulda show is spectacular'
ideat: 'the king's new art in fulda's city palace'
fuldaer zeitung: 'ruler in miniature'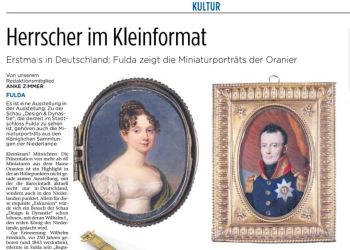 fuldaer zeitung: 'insights into the Dutch royal family'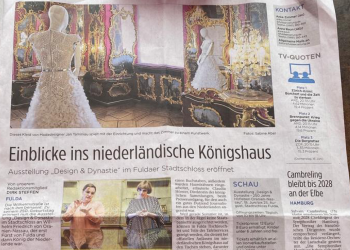 den haag centraal: 'german fulda under the spell of orange'
fuldaer zeitung: 'city palace on stamp'
telegraaf 2022
'but the biggest tourist attraction will be... fulda'
thanks to the telegraph
announcement for the major summer exhibition in fulda: design & dynasty.
about the 250th birthday of King William I.
eigen huis & interieur: promotion of dutch design
elle decoration: masterly > elegant selection
article 'eye on the prize'
text from the article: 'what do you do when what makes you happy is bringing people together, show the world the most beautiful things, but a worldwide pandemic is holding you back? nicole uniquole, founder of masterly – the dutch in milano,
the dutch pavilion during the salone del mobile accepted it, stood tall and put her focus on what she does best: connect.
a go-getter, someone with a clear vision, are words often used to describe nicole and she is proving it now once again. the day after de decision to postpone the salone del mobile her house is filled with exquisite flowers, she is given chocolates and encouraging messages from "her" designers who were supposed to accompany her to milan. it immediately brings her back to reality: keep your eye on the prize.
With her own motto she searches for what is possible. Her drive is to unite the group, with the conviction that this exactly when they strengthen each other. That must be tangible, to the visitor, the media, the client, the curation and the producer visiting masterly.'
text sharon roest
harper's bazaar
text from the article: 'milan, moscow, berlin, budapest: curator and exhibition creator nicole uniquole roams the whole of europe for her work. with her company uniquole she leaves behind a trail of wonder and admiration: with each city as a unique décor, she knows how to put dutch design on the map. her specialism? contemporary art and art from the golden age. nicole uniquole's list of projects is equally impressive. she is the founder and curator of 'masterly – the dutch pavilion' that is featured annually during the salone del mobile in milan. as you can read: nicole uniquole is a master in the world of art fairs and exhibitions, and because of that this week she is bazaars woman of the week.'
text evie lukassen
woman of the year 2021
nicole uniquole won the harper's bazaar public voting!
foto milan gino
spread ad / the hague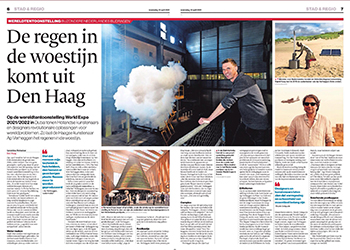 text by geraldina metselaar
interview about the role of artists and designers for the innovations during the world exhibition in dubai.
in collaboration with monique ruhe, artistic programmer of the art programme.
serie 'outspoken'
magazine color and style
written by natasha admiraal
design magazine bno (6 pages)
quote: 'average is not good enough'
appointment honorary member bno
nicole uniquole and conny bakker (professor tu delft, faculty of industrial design engineering) have been appointed honorary members of the bno | professional association of dutch designers.
these hall of fame include benno premsela, lidewij edelkoort, timo de rijk, gert dumbar, anthon beeke, dick bruna, wim crouwel, friso kramer, kho liang ie and wim rietveld.
bno honorary members: people who are appointed honorary members because of their great merits for the profession and / or the association. this pays tribute to everything, and the honorary members act as icons and ambassadors for the design profession
article: the architect
masterly milan: corriere della sera
corriere della sera is one of the largest newspapers in italy with a circulation of approximately 400,000 copies.
the 2019 edition of masterly – the dutch in milano was voted by the newspaper as the second best presentation during the salon del mobile in milan. the great leonardo da vinci exhibition in palazzo reale was number 1.
trendsetters magazine: nicole uniquole, li edelkoort and rosanna orlandi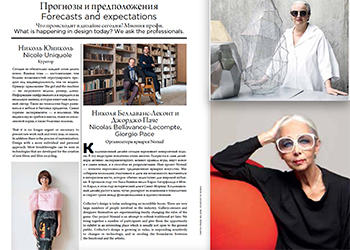 interview with three trendsetters
avro's kunstuur with marcel wanders, nicole uniquole and lucas de man
lucas looks back with top designer marcel wanders on the early days of his successful label moooi and met in milan designer maarten baas and design expert nicole uniquole who presented a palazzo full of dutch design.
watch the broadcast here
publication: women in the art world
publication and exhibition of carla van de puttelaar.
nicole uniquole is honored to be part of the project "women in the art world, portraits of prominent and promising women in the art world".
with portraits of kaywin feldman (national gallery, washington), emily rafferty (president emerita metropolitan museum of art), susan singer (art collector), marta weis (v & a), emilie gordenker (director mauritshuis), hester diamond (art collector) , hannah rothschild, inbound (frick collection), ingrid van engelshoven (minister of culture) and anne t. woollett (getty museum).
view the project website here
series of promotional movies city of the hague
presentation: nicole uniquole
locations, amongst others: museum escher, panorama message, kunstmuseum den haag, korzo theater, museum mesdag en mauritshuis.
commissioned by the hague city marketing.
watch one movie here
masterly: 1st place!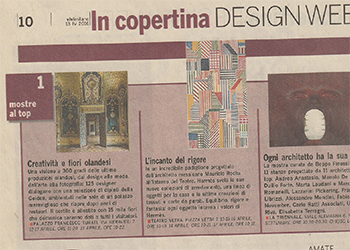 corriere della sera is one of the largest newspapers in italy with a circulation of approximately 400,000 copies.
the 2018 edition of masterly – the dutch in milano was voted the best presentation during the salone del mobile in milan by the newspaper.
painting huis ten bosch at masterly the hague
the hague central, the newspaper with all information about what is going on in the hague, will pay attention to the new festival masterly the hague in 2018 and 2019 with a series of articles.
domus
design and architecture magazine.
article about the creation of the dutch pavilion in milan.
algemeen dagblad – about a new festival in the hague
with thanks to malou seijdel
telegraaf – article about the new festival in the hague
with thanks to eline verburg
den haag centraal about masterly the hague
with thanks to caroline ludwig
online media because of salone del mobile
online media about the salone del mobile.
on the roof terrace of the dutch pavilion in milan.
photo: nicole marnati
interior russia
dutchculture
'milan is the place to be'
media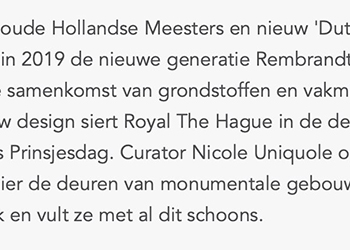 algemeen dagblad – spread about masterly dutch pavilion
text malou seijdel
photo nicole marnati
financieel dagblad
elle decor italia
interview: paola testoni
photo: frieda mellema
top: esther dorhout mees
scarve / skirt: world of charisma
het parool (weekend addition, 5 pages)
interview: joep school
photo's: rachel dubbe
dress: walter van beirendonck
den haag centraal
interview:
photo:
accessory: michael barnaart van bergen (limited edition)
klei magazine (5 pages)
interview:
photo: frieda mellema
frankfurter algemeine (4 pages)
about the summer exhibition at palace oranienbaum
den haag centraal (spread)
interview: jasper gramsma
photo: piet gispen